Wait, you may say, there are still two 90-loss teams left (1969 and 1992), why 1998 now? Only by the grace of an 8-3 record over the expansion Devil Rays and the suckocity of the Twins and Tigers (2 1/2 and 7 1/2 games back of KC in the AL Central, respectively) does this team not out-stink 1999. It's another Tony Muser special at 72-89, although Muser somehow guided the team to 8 more wins than expected in pythagorean W-L. The next year he undershot by 11, as reported in the 1999 post yesterday. Shockingly, the '98 Royals were 5 games over .500 on the road and a whopping 22-games under .500 at the K. I claim the Curse of John Schuerholz. They were 15-41 in blowout games decided by 5 or more runs; a team line of .263 (12th in AL)/.321 (12th)/ .399 (11th) helped them get shut out 10 times and a team ERA of 5.16 (13th in AL) and 899 runs allowed (13th) assured they only shut out opponents 5 times. EDIT: I failed to note that '98 was the year the Royals could have moved to the NL Central, as they were given the first choice with the addition of the D-Backs and D-Rays to help balance out the lopsided divisions. The Royals declined a move that would have accelerated the rivalry with the cross-state Cardinals and, instead, the Brew Crew accepted the move to the Senior Circuit. Nowadays that move looks pretty dumb for KC as the NL Central has turned out to be a weaker being than its AL counterpart.

GM Herk Robinson had another year to forget in 1998. He got OF Jeff Conine back in a trade with the Marlins in Nov. '97 and watched him play well in LF with a marginal bat (.729 OPS). Free agent signings Pat Rapp (5.30 ERA, 1.6 WHIP), Terry Pendleton (.637 OPS) and Hipolito Pichardo (brought back for a 5.13 ERA) didn't work out, but bringing in Dean Palmer (.843 OPS, 22 errors at 3B) and Hal Morris (.309 BA, .731 OPS) worked out OK. His best move of '98 was probably buying Jeff Suppan from the D-Backs in September, as Suppan pitched well in limited action in '98 and pitched average for KC for the next 3 seasons before chipping in a crappy 2002. The 1998 draft was another Herk atrocity, as the Royals got P Jeff Austin (bust), P Matt Burch (who?) and P Chris George (gas can) in the first round -- they took Austin over J.D. Drew (bonus and Boras probably scared off KC), Austin Kearns, Brad Lidge, and C.C. Sabathia. OFs Brad Wilkerson and Aaron Rowand went after Burch and George. Adam Dunn was bypassed in round 2.

At the plate, IF Jose Offerman was the team leader with a .403 OBP and .841 OPS to earn a big payday with the Red Sox after the season. Palmer was next in OPS followed by OF Johnny Damon, who had his best season to that point with an OPS of .778. The only bench help came from OF Shane Mack, who the Royals got from Oakland early in the season in return for C Mike MacFarlane. On the opposite side of the ledger, Mike Sweeney struggled somewhat in his chance at everyday C and posted a .728 OPS, every Royals fan was wondering what the fuss was about Jermaine Dye as he struggled to a .606 OPS in only 60 games, SS Mendy Lopez put up a .286 OBP in 74 games, and, as noted, the rest of the bench pretty much stunk to high heaven. On the mound, no starter had an ERA lower than Tim Belcher's 4.27, and the only serviceable relievers were Scott Service (no pun intended) at a 3.48 ERA in 82 IP and Ricky Bones with a 3.04 ERA in 53 IP. Jeff Montgomery somehow posted 36 saves with a 4.98 ERA and 1.4 WHIP and fan favorites Brian Bevil, Jim Pittsley and Chris Haney slapped together plus-6 ERA seasons (not for the first time). Injury also caused Kevin Appier to miss most of the year and when he did pitch he posted a 7.80 ERA in 15 IP.

Single digit win totals helped do in the team in May and September, as well as the aforementioned horrible home record. Muser somehow guided the team to a 17-16 record in one-run games, but the highlights in general were few and far between. It would only get worse in 1999.




1998 Pipeline Royals MVP -- That's a toughie. Jose Offerman had a nice year, despite somewhat subpar defense. Let's give him credit for a plus-.400 OBP.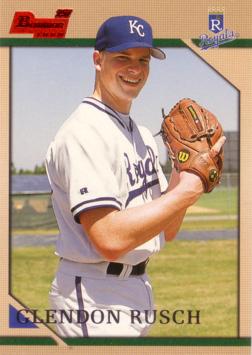 1998 Pipeline Royals LVP -- Pat Rapp, Glendon Rusch, Hipolito Pichardo and Chris Haney. $4.97 million and 500+ IP of not much.



































Here's the '98 Royals. Enjoy.